This blog is designed to offer helpful hints, tips, and tricks to teachers and library media specialists who are modeling the integration of technology in an authentic and ethical manner in the name of increasing student engagement. The content will be driven by questions I am asked or by my own current educational and technology interests. Subscribe with your favorite reader, and maybe I'll have added something new each Tuesday. NO PROMISES though. The frequency at which I post will depend of my wow factor as I learn.
Who is Cathy Nelson?
I want to formally introduce myself and share a bit about who I am. I am school library media specialist with 29 years experience on my resume. My name is Cathy Nelson, and I am an educator from South Carolina. (Some know me as CathyJo in Twitter and in webinars.)  If one would like to contact me personally, I can be found at cathyjonelson – at – gmail.com
This is my personal blog and the opinions expressed do not necessarily reflect the views of my school or the school district that employs me.
Recognitions: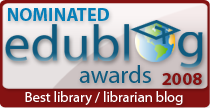 Listed as one of the Top 20 Educator Blogs in the September/October Issue of Scholastic's Instructor Magazine