Yes–I said it. I wasn't even going to acknowledge my nomination in this year's Edublogs Award Program.  My category is broad–Library/Librarians Blogs.  The list contains a diverse group, from practicing school librarians to media directors to higher ed professors to college "group" sponsored blogs.  How does one compete in such a list?
Last Year
I was on the list last year too, though I do not know who nominated me, or even how many. I don't even know the algorithm used for determining the "short" list.  I have an assistant at school who begged me to TELL everyone and campaign for votes.  I refused, telling her my blog was basically NOT something done at school, and so i would NOT use school time to garner votes, nor would I share about the nomination, other than in my blog. My rationale was that would be the only appropriate place to "campaign," and save for a blog post, I did not campaign.
The honor questioned
And then last year and again this year, I read some posts in the blogosphere that seem to "poo-poo" the award.  And some of this downplaying was being done by those nominated. Sigh. But as I read about the process by which one gets nominated, I am having a change of heart.  Evidently over the couple of years that the Edublog "Eddie" Award has been awarded, there has been a change in the rules, an improvement with each year in determing the nominations and even the process for voting. From James Farmer's blog I read:
Well, first up a list of every single nomination would be, quite simply, too big.

And secondly some sites get nominated in incorrect categories, some sites get nominated more than others, some sites get nominated by 'mavens' whereas some are nominated by people who we've never heard of (not that that excludes anything, it just means there needs to be more checking) and some nominated sites aren't active, or don't appear to be lively, regularly updated, widely recognized or commented on… so those and many other factors determine what makes the shortlist, apologies in advance if your site or nominated sites don't make it.
Okay, so I understand…to a degree
Maybe now I know why my friend GSF did not make the list.  But if like in this case, he is not recognized with a nomination (and I nominated him for best new blog) because he is one they've never heard of and his blog is not yet lively with lots of comments, doesn't that feed the notion that the award program is just acknowledgment of the echo chamber–which is one of the main criticisms I've heard about the Eddies?
Oh well, so why have I had a change of heart about posting re: my nomination? This year more than any other has been a year of growing for me in the blogosphere. I began my blog in July 2006 using another service and then almost immediately moved over to the Edublogs service. In January of 2008, I purchased my own domain space, and made a goal to move my blog there.  I finally made my move in August (what–it ONLY took 8 months–thanks to my friend Chris Craft and his assistance).  And I've been here since then.  So I was immensely surprised to make the nominations again this year.  I figured the move would be a severe blow to my readership following and the ever-maligned technorati ratinngs.
Well, I am happy to report that most of my readership seemed to follow me over to my new space, though Technorati hasn't forgiven me yet (it is still down about 56 points from my all time high), and it is an indirect reflection of readers who blog to a degree. Technorati, though, is the least of my concerns.  Today I went back to my old stomping grounds only to discover that it is alive and well in visitation stats according to the Feedjit badge that still sits there. Shockingly, according to it, I've even had visitors arrive there TODAY.  Should I delete or wipe it all clean?  I wonder how many of my current blog space visitors ONLY come here  b/c they are redirected from there? Would I take another hit IF I totally DELETED the space? Is the traffic there a result of people looking at past nominees?
Whatever, because even after I moved, my blog still made the nominations, I am pleased as punch (even though I am now a factor in my own echo-chamber argument.)  Never in my wildest imagination did I think i would be nominated last year, and then after moving, never did I think I would get a nomination this year.  Thank you Lisa Thumann for nominating me.  You're the only person I know who publicly nominated me in a blog post. [Updated 12/6 @7PM: CORRECTION: Add Liz Davis to the the list of those who nominated me!] So I proudly now display my nomination. But i think I'll slide on placing it in my sidebar for now. That seems sort of like bragging. Yes I did it last year, but have since removed it. Now go vote for me if you want. But I must say it's enough to be nominated.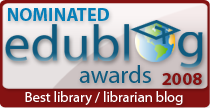 Attribution:
Image: '
♥
'
www.flickr.com/photos/36613169@N00/300425399