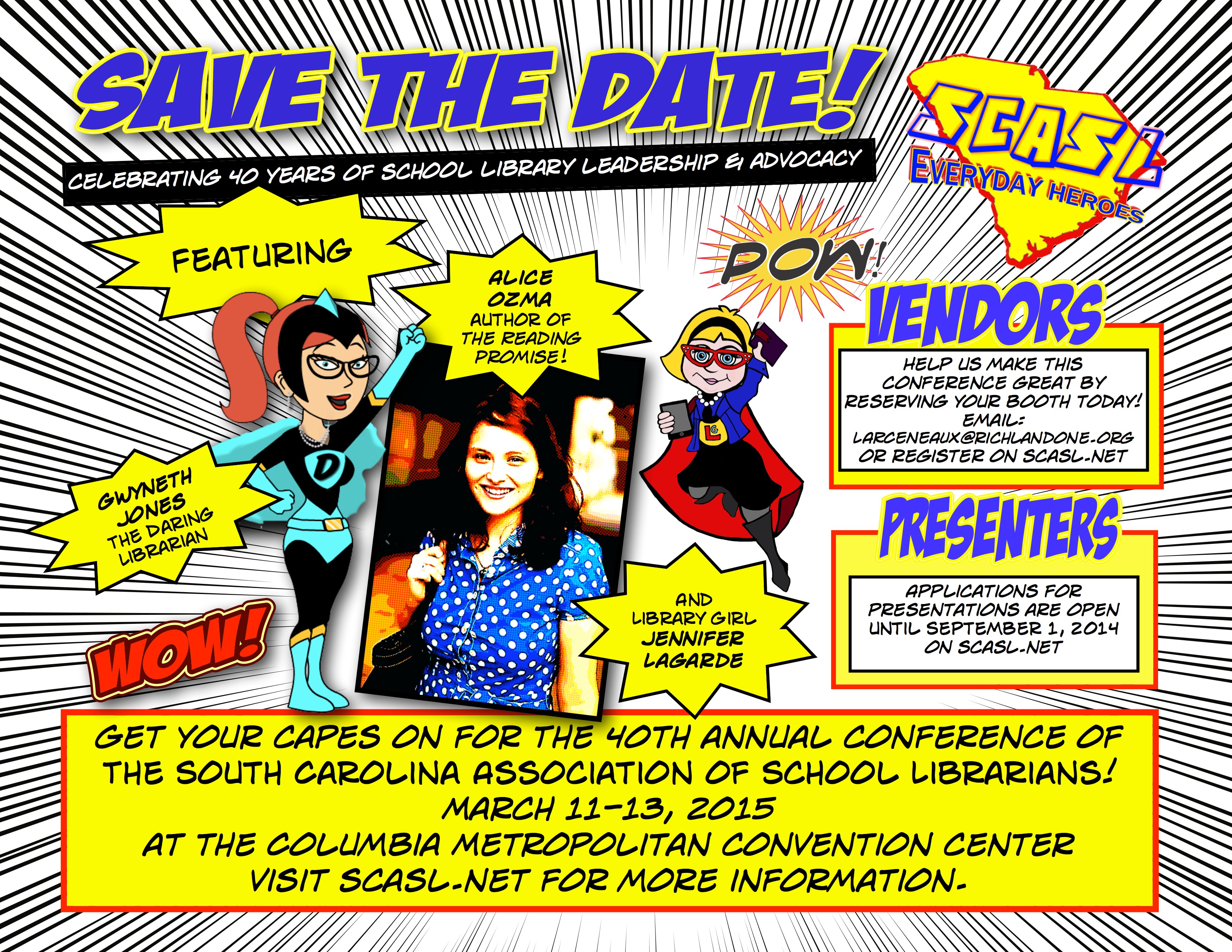 The South Carolina Association of School Librarians is accepting proposals NOW for the 2015 Annual Conference. It already sounds EXCITING!! Just get a look at the save the date card that came in the mail. Are you dismissing it? Do you avoid conference because it's the same old stuff each year? Well STEP into your super hero shoes and make this the best conference ever! Break the mold by presenting something at our conference. You may be just the difference we are looking for. What better way to advocate for school library programs everywhere than by sharing what is working in your own teaching (and learning) context!
What will I propose?
I submitted my proposals today:
Ten Tools to Flipping the Library – Concurrent
Not Another Powerpoint! – Concurrent
My Google Certified Teacher Journey – Idea  Exchange (aka poster session)
These are what I have been thinking about and/or actually doing in my own professional learning, and I just want to share with other librarians, opening the door to learning via conversations at our annual conference. To me, the value of SCASL Conference is not measured by the keynotes and authors (which are always grand) but rather the sharing and learning from librarians just like me facing students day to day. I look forward to sharing my stories, and can't wait to hear yours, and better, learn from you.  Crossing my fingers these proposals are accepted!!
So, what are YOU willing to share?
Keep in mind you have two types to consider. There is the standard concurrent, which typically lasts as hour, and then the Idea Exchange, which are less formal and happen on Wednesday during the opening of the exhibit hall. If you feel nervous presenting, consider a co-presenter or a panel session, which takes the heat off. Crowd sourcing topics is an excellent way to get in on a presentation too. Last spring my "Don't Worry, Get 'Appy" session came together because I knew people would sign-up to share if they knew they only had to talk for 3-5 minutes. We had a great session that day last year at SCASL14.
So, get busy. Submit your presentation proposal now! Visit SCASL.net and using the navigation menu on the left, click Conference, then Application to Present. If you need an idea, I can give you some!