I just finished planning and preparing for a book talk I'm giving soon.  I am stunned. It's 29 slides! This is for 5 books, mind you. I had given some thought to creating a Prezi, but opted for a PowerPoint instead.  My collaborating teacher is gearing up for a Romeo & Juliet unit, and she wants her students to choose one of five books for a YA Lit themed Romeo & Juliet study–modern day-contemporary style. So my task is to book talk the five titles so the class can choose their book for a literature circle.
So why is it 29 slides? First I am showing a slide of Taylor Swift, who is rather popular with many of our girls….found this one on a blog.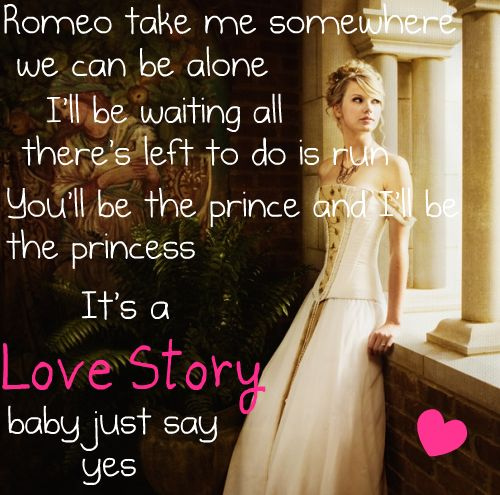 With this pic, I'm adding around 30 seconds of the same song.  I can already hear about half the class groaning.  I'm going to ask them to think of famous couples, fictional or true, from pop culture or right in the halls here at school, of those who suffer from a Rome & Juliet syndrome–opposites together, possibly hiding a relationship from friends and family, or infatuation to the point of suicide or running away.  I'm hoping it's not too deep an exploration of the topic as I'm only giving them a brief few moments to share in small groups.  I then plan to pull them back in by showing plenty of couples from childhood cartoon characters to TV shows and movie couples who have a little Rome & Juliet-ness about them.  My hope is to show that it's not just a girlish-phenom even though superficially many will immediately think young, gushing puppy love.  I'm pretty sure my collaborating teacher and I will have to identify some of them, as it is doubtful our students will recognize couples from for example, the movie Last of the Mohicans. Some of them are really old.  (I'm not even going to post here since I don't want to get it trouble for the many images I grabbed, though I am citing them in my slide set.)
The Books
After our sharing of all these couples, I will feature the five books on the slide.  Our students already know the titles. I'm also including on this slide a video clip (featured below) with the five titles. My point with the video clip is to show that the teen angst, emotions, and feelings of young Romeo and Juliet is a story we hear over and over, even in today's culture.  Just watch this story, featured recently on Good Morning America.

After viewing this short clip, I will share a few links that update this story.  Finally, I'll go into each book, and what makes it fit the theme of Romeo and Juliet, with each book featured on its own slide.
29 slides for five books!!?
That's a lot of work to do a simple book talk!  But my goal is to hopefully grab our students interest through multimedia, engage them by allowing them to share stories with each other (which means they are a part of the presentation instead of idly sitting by in a classic "sit and get" session,) and make them interested in the topic at hand.  I hope they will see that the topics covered in the books, which range from race/prejudice themes, family feuds, dysfunctional families, religious undertones, healthy vs sick, bad boy/good girl relationships are a timeless problem in society, and that perhaps reading about them will give our students not only insights for their upcoming Rome & Juliet unit, but also give them a few life lessons–how to deal with the drama of life in general.
Life Lessons to be Learned
What better way to equip our teens with skills to deal with life lessons than with experienced through the pages of a fictional story!  I'm recording this book talk for potential use in a portfolio.  So I close with this: if you have suggestions for the book talk (any idea is encouraged and accepted) please share them.  From movie characters to other songs to even other books, I'm wide open for suggestions.  I did not see many actual book trailers online that were of the quality I wanted to use for our five books, so I'm going with my own slide set, where I have a book cover and a a couple of striking images related to the story as my guide to book talk the title.  Slide 1 is the pic above, slide 2, 23, and 29 showcase the five books pictured above, and then slides 24-28 are book covers with story plot-related images.  The rest are characters from pop culture to help our kids make connections to knowledge they already have or build schema for relationships known to be like "Rome & Juliet." Please leave a comment suggesting more.  Thanks for reading!