Well my Carolina Gamecocks lost yesterday in their bid to be the 2010 SEC Champions, but during my ride home from Atlanta, Diane Cordell emailed me to let me know that I was nominated again for the annual Edublog Awards.  This is my fourth year in a row being nominated.  I am surprised and delighted to be among the best and brightest edubloggers out there! That news made the Gamecock loss a little easier to swallow.
What a list!!
Don't know about others but I am DELIGHTED to see so many choices for each category. I can remember a few years back (they've been around seven years) when each category only had a few nominees.  But the growing competition in each category speaks to the growing number of educators who find the blogging network a valuable part of their learning, which causes folks to read more, nominate more, and even jump into the fray of writing more, a true fringe benefit for me.
Special Recognitions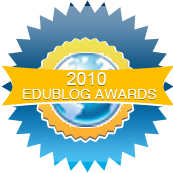 I have to take a few moments to give some special recognitions to our South Carolina educators who have apparently impacted readers across the blogosphere.  Along with discovering my blog was nominated in two separate categories (Best Library/Librarian Blog and Best Ed Tech Support Blog) I found out that one of my very good friends, Fran Bullington (aka @booklover472 in Twitter) has been nominated for her librarian blog Informania.  Fran has been such an inspiration to me these last few years, really pushing me in the area of advocacy and working with our teachers as professional learners.  She has a fantastic blog worthy of subscription to any type of educator, not just librarians.  I also must recognize fellow SC teacher librarian Tamara Cox (@coxtl in Twitter) who is nominated as "Best New Blog" for her work on the Eliterate Librarian.  Tamara is blazing a path for other SC librarians in the blogosphere, as she only just began her blog in July 2010. Here is her beginnings, showing her desire, passion, and commitment to learning, not only for her students, but for herself and others as well, which I love!
I have been a voyeur on my PLN for too long. It is time for me to contribute. I have been keeping up with my Twitter account because I installed Tweetdeck on my iPad. I have been reading lots of blogs and marking sites and articles on Diigo. I have been collecting all of this information and now it is time for me to implement ideas….
Tamera Cox, Eliterate Librarian, Inaugural post on her new blog.
There are so many other blogs that I know so well–and dearly love.  I am flabbergasted at how many of our Geek Tribe members represented in the award nominations up for voting.  Just look at this list started to day, asterisks indicating members of our Geek Tribe!! As 5 (yes count them, FIVE) edublog nominee Daring Librarian Gwyneth Jones so aptly put it in an email titled "Geek Tribe Rocks Edublog Noms" to us,
Exciting News! What a year it has been for the Geek Tribe and Librarians! So many of our tribe have been recognized by the Edublog Award Nominations for our achievements in the last year – it's astonishing!  Joyce mentioned that It seems that since AASL in Charlotte we've really created a lot of energy and steam (ok steam was my word!)  and become true change agents in our schools, districts, and community! YAY for that!…
Check the link to the Google Doc the Geek Tribe (actually I think it was Gwyneth, Joyce Valenza, and Shannon McClintock Miller–also nominated I might add)  created to help find our impact there. Just about every category has Geek Tribe representation! We are all marked with an asterisk.  Many of my own nominations are in as well (Joyce, Gwyneth, Doug J, and more…)!! And YES, my friend Diane Cordell (@dmcordell)  is also nominated as Best Tweeter!! Diane has been my best mentor and supporter in blogging and tweetdom.
Time to clean reader house
Now I am knee deep in exploring some I did not know about!!!  This is the time each year where I seriously start evaluating my reader, and sadly dropping those who have faded or lost my interest. But I  always add all the ones here that I was unfamiliar with so I can "try them out" for a bit and see if they move into a more permanent folder in my reader.
It's an affirmation of the echo chamber, so they say….
Of course you have the naysayers who always blast the Eddies, but I seriously use it to get exposure to great blogs I wasn't aware of before.  Even better, the librarian category has MANY friends of mine there.  SWEEEEEET!
Here are my nominations.  Click to vote!
Use the Geek Tribe links to vote for all other Geek Tribe members!!
Voting is now open for the 2010 Edublog Awards, a yearly opportunity to acknowledge the blogging and tweeting efforts of educators who choose to connect and share online. Go there and vote!