January – Work to convince teachers to rephrase their Internet Guidelines for research
February – Considered a job change, and made inquires about a job that was rumored but not posted. Before mid March, I had an offer in hand for a job not advertised.
March – SCASL in Greenville; I  presented twice and UStreamed sessions at conference.  I got a dinner date for me and four of my friends with Doug Johnson, our keynote speaker. I also had one of my most popular posts of the year–> If an assignemnt can be plagiarized…
April – A forest fire too close to my Myrtle Beach apartment scared me senseless. This month I also
received my invitation to attend (and HELP OUT) at SLJ's Leadership Summit planned for Washington, DC in October.
May – When I formally resigned at my school from last year, there was difficulty in finding a replacement. After no success with the first round of interviews (of which I was not in on) I was asked to put together questions to be asked of a potential candidate. I turned to my PLN to help me create this document with immense success. I was very pleased with the result.
June – Moved out of my apartment in mid June. This ended the 2 year stint of living apart from my family during the week. I co-presented with my friend Fran Bulllington at the Upstate Tech Conference in Greenville, SC. My good friend Chris Craft was the keynoter.  Very well done, I might add.The UTC crew planed a tweet up too that was really fun!
July – Attended and sat on Library 2.0 Smackdown with lots of school library gurus at NECC09 in DC. I also was a big player in the SIGMS 2 hour session there, a panelist with a voice!  My husband and I moved to a small town between where he works and I work.  Small town reality – the grocery store is not what I'm accustomed too!
August – began new job in the upstate
September -Named by Scholastic as one of the top 20 blogs for teachers! To put my feet firmly back on the ground though, I had a revelation about how I am perceived in my new school. Talk about a blow to my ego! Showed me I have MUCH work to do!
October – co-led the virtual presence at the SLJ Summit in Washington, DC; met Buffy Hamilton, a school library LMS rock star. We rode together, worked together, and
hung out the whole time! My blog began its fourth year! I also enjoyed a memorable lunch at SC Edtech with my friends MaryAnn Sansonetti and Chris Craft, and we got to wine and dine (well dine) our keynote speaker for lunch that day, none other than Sheryl Nussbaum Beach!
November – Suffered a bad bout with Pneumonia, sidelining me for 8 days of school and ending my chance to attend AND actively participate in my first AASL National Conference (Charlotte, NC) serving on a tech team, Library Tech Team: GEEK SQUAD. Boooo.
December – Was nominated for a third year in a row for Best Library/Librarian Blog in the 2009 Edublog Awards Program.  I did not win (I finished a distant 4th), but feel honored to be among the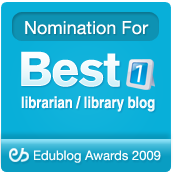 nominees, all movers and shakers in the EdTech, 2.0, and Library World.  The Awards ceremony was held in Elluminate, hosted by Steve Hargadon and Sue Waters, and as the winners were announced, I created a blog post that I posted immediately after the ceremony. I was the only one who posted this information for about 24 hours or so, and as a result, my blog had over 1500 visits in that 24 hour period, make it my new all time most visited post.  I was floored, as my normal visits per day ranged from 40-100. There were some grumblings about whether or not it is appropriate to support this program, but I find the program the BEST way to introduce newcomers to the world of blogging and rss, so I am definitely in favor of it.  I found some GREAT new voices for my reader this year.
Images:
'Doug Johnson and Cathy Nelson' by SC_Association_School_LIbrarians
'Change Agents @ SLJ' by Buffy J Hamilton-The Unquiet Librarian' photostream
'Can We Work Together' By Pat Hensley – Loonyhiker's photostream
Nomination Best Librarian/Library Blog Badge – Edublog Awards 2009
Scholastic Instructor Top 20 Teacher Blogs from the Scholastic website